We believe that the integration of knowledge has transformative power.
From the very beginning, we wanted to work with smart people. Over the years, we have developed a brain-trust of collaborators who contribute their expertise and methods of approach toward integrated solutions to achieve our clients' goals and challenges.
As true talent advocates, we also seek ways to connect our clients with each other, extending their reach through creative alliances and opportunities. Since we are all active within the design field, we are able to build professional relationships with a broad range of key collaborators in architecture, interior design, landscape architecture, planning, and more….
Marjanne Pearson
Founder + Chief of Talentstar, Inc.
Recognized as an industry pioneer, Marjanne has the ability to ask the questions that should be on the strategic agenda of every design firm. Building on her experience in design firm management and independent practice, she focuses on strategies for organizational success and resiliency.
Gail Gabriel
Senior Principal of Talentstar, Inc.
With hands-on experience in marketing professional services, Gail understands the business of design. She is best known for her ability to work with firms to identify, recruit, and develop effective leaders in all practice areas — design, design technology, management, and marketing.
Katherine Bajor
Principal of Talentstar, Inc.
Katherine is the consummate problem-solver. With diverse experience across creative disciplines, from advertising to design firm management, she can imagine problems from other perspectives, applying a deep understanding of talent, collaboration, and accountability.
Linda Wallack
Principal of Talentstar + Founder of TOKO Creative
Linda is known for her big-picture thinking and creative savvy — characteristics that allow her to add value in collaborating with clients and co-creators. Linda is a designer of interior space, as well as an expert in communications and marketing, effectively aligning and advancing business initiatives.
Michelle Wempe, AIA Associate Member, IDEC, IIDA –
Principal of Talentstar + Founder of zumaooh®
An award-winning interior designer who teaches professional practice, Michelle is recognized as a leader in the design community, with real-world knowledge and expertise. She brings a unique viewpoint on issues related to the character and quality of a successful design practice, as well a significant focus on development of next-generation talent.
Nancy Egan
Founder of New Voodou
Nancy provides marketing strategy, image and content development, and media relations services to the design community. She works with architects and designers, investment developers, and community agencies, and she writes on workplace issues, urban design and architecture, and professional services marketing.
Mike Plotnick
Founder of Elevate Your Story [aka PlotLines]
As a strategic communicator, Mike helps businesses develop and strengthen relationships with the people, organizations, and causes that shape their success. With hands-on experience in public relations, content marketing, and social engagement, he uses traditional and digital communications to identify, build, and share his clients' stories with their most-valued communities.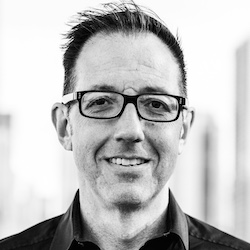 Darren J. Rizza
Founder of 1550a + VP Product [Trezi] with SmartVizX
Darren is a strategic, visionary and digitally informed leader, leaning on 15+ years of business technology leadership in professional services. His career experience and education place him at the intersection of design thinking, business strategy and operations, digital and information technology, ready to accelerate business leaders and DevOps teams to capture their full potential.